See Jane blog part II: Business blog basics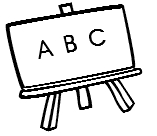 As you may recall from Part I, I'm working with Jane to make her business blog more effective. She's got a fantastic blog and Web site that focus on the business of fashion for new and established designers.  So, before we tackled the big stuff, here's what we did…
Defined business goals
Yep, you can't start improving a business blog without knowing what the end goal is. That would be like starting a race by running full speed in the wrong direction!  We talked about competitors, what Jane wanted to sell, how different "products" were selling (seminars, individual coaching sessions, e-reports) and where she wanted to focus.  We decided that on every page, visitors to the blog should be able to (1) sign up for updates, to build Jane's already-great e-mail list and (2) have direct and easy access to Jane's services and upcoming events.
We used the sidebars to highlight Jane's free e-report, which asks readers to supply their e-mail address for a free download.  Free content is a fantastic way to get potential customers to get to know you, your business blog, and the types of services you offer. Jane's free reports vary, and we can switch them out as she develops new ones.
We also put permanent links to Jane's services in the right sidebar.  After reading a recent article by David Risely that mentioned "sidebar clutter" I'm tempted to remove the rest of the stuff that's there…do people EVER really read the archives by month?  Do you?
Made the blog sharable
One of the first things I noticed on Jane's blog is that I would get to the end of the post and be unable to share it with anyone.  If your reader gets to the end of the post and can't share it, you've just lost out on potential new readers.  Every single post should at least have the option to Tweet, share on Facebook, or e-mail to a friend.
I used a WordPress plugin called "Share and Follow" by Andy Killen, which added share buttons at the end of each post, as well as buttons like "Visit me on LinkedIn" and "follow me on Twitter" that stay constant in the sidebar.  There's a lot of flexibility with the buttons, sizes, text and links, and there's even an option for you to use your own button graphics if you have them.  You can't change the order these buttons show up though – so there may be better plugins out there.
Gave people several ways to sign up
Jane didn't have a link to an RSS Feed in her sidebar.  And the more I'm learning about this, I know it's essential, but it's really your more "sophisticated" readers that sign up by RSS.  While I've seen Jane's readership increase since I've been working on her blog, the number of subscribers to her RSS feed has stayed pretty flat.
However, this makes sense and reflects data from Hubspot.com, which found that business blogs averaged 12 times more subscribers by email vs. RSS.
So this means you need to offer readers the option of both email and RSS.
While WordPress has an automatic RSS feed, it isn't very intuitive for readers to use.  I've been using Feedburner, but recently have seen lots of positive reports about Aweber which apparently gives business blog writers much  more control over their subscriber information, letting you build a robust e-mail list, which for Jane, is one of her business goals.  I may have to try this one.
Added meta descriptions
Meta descriptions help readers get a quick snapshot of your content when it comes up in a search.  If you don't have a meta description for each blog post, Google will show any old text it chooses from your blog.  A meta description controls the very first message people see in a search engine, whether they're coming across your blog's home page or an individual post.
On Jane's blog, I'm using a plugin that turns the "post excerpt" into the meta description.  On my own blog, which runs on Thesis, there is a field to add a meta description to each blog post.
Set up tracking
Jane didn't have tracking set up for her core Web site or blog, and I wanted to know how I was doing!  Google Analytics is free and easy to use, and generally acknowledged as top-notch analytical software that happens to be free.
I've loved watching the tracking stats not just for pure numbers, but to see how people find Jane — where they come from, which avenues are most effective for marketing.  The information is invaluable for tweaking your blog to continuously improve its effectiveness.
What plugins and tactics have you used to improve your blog? Do you have any more advice for Jane?  Check out Jane's Fashion Brain Academy Blog here.
Coming up in Part III: SEO and Keyword Tactics for a Niche Blog