How to Avoid Information Dump Syndrome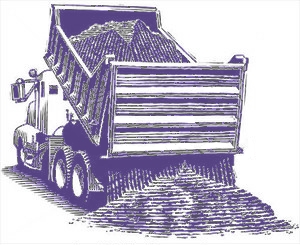 You know when you're listening to a presentation and your eyes glaze over?
Or you see a really dense-looking page full of words that you know is supposed to be helpful, but you just can't bear to slog through it?
It's not that what you're seeing needs to be flashier or more entertaining. That would help. But the main issue is that you've been a victim of an information dump.
What's information dump?
An information dump is when a bunch of information is crammed into a presentation, an article, a white paper, or a website. It's supposed to be helpful — and there's probably information in there you could use. The problem is, you, as the audience, are forced to slog through it and find those useful nuggets.
If you do slog through it, it's possible you won't find what you need, or remember what you saw or read.
Worse, you may not look at the information at all.
Why you need to take a different approach
A different approach will:
Get your audience to pay attention
Get your audience to remember
Get your audience to take action
For most businesses, taking action is the key. Whether you'r hoping to gain new customers or change employee behavior, the fact is you want your audience to do something different after they get your information.
Here's a how to get started.
Figure out the GOAL of what you're writing
These are some wishy-washy goals that lead to information dump:
Educate/teach my audience
Show leadership (OK as a secondary goal, but not a first)
These are better goals:
Reduce employee compliance violations by 25%
Gain five new clients this year
Increase time spent on my website by 50%
Next, pinpoint the behavior you want to change
Now that you've got your goals, you need to look at what you want your audience to do differently.
Let's say you manage several restaurants, and your servers keep getting minor injuries from carrying heavy trays. During employee training, everyone gets a packet about safely loading and carrying trays, but the message isn't getting through.
You want to change their behavior — the way they load and carry trays.
Or, say you have a firm that does energy efficiency audits. You've noticed that a lot of businesses lease office space and later find out that their monthly energy bills are incredibly high.
You want to change your potential clients' behavior so they perform an energy audit BEFORE they sign a lease.
Make sure to leave some information OUT
Avoid overwhelm by making sure eveything you're presenting to an audience points to the goal. In both cases above, you might be tempted to give your audience too much information.
It would be easy to give restaurant employees a packet of safety regulations, but you've already seen that that isn't working.
And for energy firm clients, you could give them tons of data about how energy gets wasted in office spaces, but will they care?
Give them what they need, when they need it
Well presented information is USEFUL. It gives you just enough to make your life easier, to save money, and to spark ideas of what you could do better. Ideally, just enough information will start a dialog with your company — you give potential customers just enough to think, "hey, I want to work with this person…I want to know more…"
Start now
If you're in the middle of writing something, look through it. Does everything
Help achieve your goal?
Change a behavior?
If not, cut it out, and be well on your way to avoiding information dump syndrome.