Cooking up a thought leadership article that won't get tossed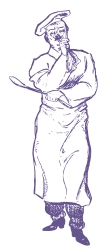 I've been writing more thought leadership articles these days, and for many people, this is a tough task to get started. You want to write something that shows your expertise and that customers will truly value. Here's a few thoughts on how to begin the process.
First things first: what is a thought leadership article?
A thought leadership article is a piece of writing that positions you and your company as authorities in solving a specific business issue. It can be a short article or blog post, or a longer white paper. Some recent examples:
If you take a quick look at these, you'll see they aren't product pitches or a point-of-view on a broad subject. They're practical. These show current and potential customers that the author of the pieces knows how to solve problems. It boosts customers' confidence that they've chosen the right company to work with. It makes the writer look like they know what they're doing, and it ups the value of the company in the customers' eyes.
How are thought leadership articles used?
The average thought leadership article can power a wide range of marketing materials, including:
articles to draw people to your website
all kinds of presentations — conferences, new business
company blog posts or e-newsletter items
prospective client handouts
published story or opinion piece in trade or consumer media outlets
Five steps to start writing a thought leadership article
Brainstorm your current work. What trends have you been seeing? What kinds of problems have clients been having?
Choose a few issues that are the most relevant to clients, then think more deeply about those. What are the subjects on which you have something unique or relevant to say? Where do you have the most expertise?
Take a step back. Once you've determined a few topics, reframe those topics through the lens of your company. What does your company want to emphasize? Where have you identified business opportunities? Maybe you have a great consumer story as a topic or example. If your company targets B2B firms, though, your article won't help your business.
Demonstrate how you've solved the problem.  Use real examples if you can, but if you don't, it's OK — but DO use real problems. One client I worked with had a great idea for a thought leadership article — she had a client with a common problem, but the client didn't have the budget to solve the problem in the best way. So, we presented the client's problem (anonymously), and then presented the optimal way for the client to solve the problem — not how the client actually did it.
Conclude with action.  Ask a question to get readers thinking. Mention specifically who they can contact to learn more.
How have you used thought leadership articles for your company?