Make presentations a million times better with this simple formula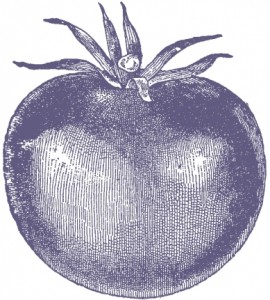 A student walked into a classroom and taped up the entire front of the room with plastic sheets.  When the rest of the class came in, she started her presentation by hurling a rotten tomato at the front of the room, where it splattered and disintegrated.  And then she said, "This is what happens when an elderly person gets into a car accident."
She went on to give a presentation with statistics and backup about why it's important for elderly people to stop driving when they are no longer physically able.  But the message had already sunk in way before that.  Heck, I didn't even see the presentation — someone told me about it — and I still remember it!
The Formula: Example First, then Explanation
By nature, I'm a 'splainer.  I like to explain things first, then give examples.  But I should turn that formula around.  I was writing an e-learning course when the client pointed out to me that I should put my examples first, then definitions and support.
"All the research supports this: when you start with examples, people learn better."

– Smart PhD in Instructional Design
It's like the tomato-throwing example: SHOW, then tell.
Writing Better Presentations
Presentation opener before: We have 300 people who work for us with offices in 5 cities.
Presentation opener after: Our clients earned 25% more after working with us last year.
Which one do you think is better?
The "after" of course.  The first one is explaining.  The second is a concrete example.  To get to the example, the presentation writer did the "So what?" test.  She asked: why should a customer care about how many people work here? They'll care because of how it affects THEM — their money, their time or their happiness.
Another Presentation Tactic: Tell a Story
You don't necessarily need some fantastic statistic like the one above to develop an example, either.  You can tell a fictional story to make your point.
Here's an example from an engineering firm:
"This is Joe.  As the building engineer, he's dealing with an aging HVAC system and a limited budget.  What does he do first?" (then the presentation goes on to follow Joe and how he makes decisions, supported with facts and expertise from the engineering firm).
Making this more of a "real" situation, listeners get involved with Joe's story, rather than a straight lecture about "Here's what you need to do first when considering upgrading your HVAC system…"
Why Writing Presentations is Different from Creating Web Content
On the Web, you get about half a second before people leave your page, so it often works to start with a headline, then get into the details.  For a presentation, though, your audience is sitting right there. They can't leave (unless they're rude…).  You can take the time to tell a story and get them involved, and as a writer for a Power Point presentation, webinar or e-learning course, you can do this better when you follow the formula:
Example –> Explanation
Have you done this for your presentations?  Has it worked?