Why was e-mail number 2 opened WAY more than number 1?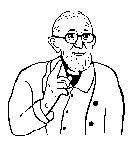 The other day, a client sent out two e-mails.  The first was opened by 232 people, the second by 332! Can you help figure out why?
E-mail 1:
"Starting today, I'm offering GROUP consulting"
Opens: 232
E-mail 2:
"Awwwww shoot!"
Opens: 332
So, exactly 100 more people opened e-mail #2, which was really just dashed off — she realized something wasn't clear in the first e-mail, and sent out the second to clarify.
Yesterday, the Blog Tyrant posted about What Makes People Open an E-mail or Letter, and he's got some great suggestions.  However, this one kind of falls out of the box.
My analysis:
It's familiar, like the kind of e-mail you'd get from a friend (reminds me a little of Clay Collins e-mail subject lines…his latest was "um . . . you should probably know about this")
It begs a question — like when someone in the office next to you yells "crap!!" and you have to run in and see what's wrong.
What do you think?
Any other ways we can "repeat" this mistake?